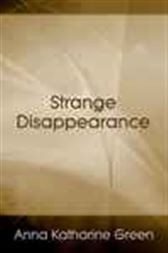 Amigo Reader 2011
[PDF] Free Ebook Strange Disappearance – Anna Katharine Green
Ebook
A young woman working as a domestic servant disappears from a wealthy household in New York City. The police investigating the disappearance have few clues, and the other servants working in the mansion, which is owned by a Mr. Blake, seem to know little about the woman in question.
Did she leave voluntarily or was she kidnaped? The police suspect the well-to-do owner of the house, and conduct a surveillance of his activities.
They realize the connections between the missing woman and Mr. Blake are closer than first thought. What then were the true relations between employer and servant? We learn that the woman had years earlier saved Mr. Blake's life, and this led to a secret liaison that became the motive for blackmail. Such is the exciting story of A Strange Disappearance.
Set in the late 19th century, it takes us from the highly privileged and sumptuous surroundings of Fifth Avenue, to the dangerous backstreets of downtown Manhattan, and into the forests and isolated cottages of upstate New York. After the shocking truth about the participants is revealed, the police move to prevent a murder. Part of their plan involves a young detective disguising himself as a consumptive French artist! The author of A Strange Disappearance, Anna Katharine Green, excels in her ability to convincingly portray villains as well as heroes.
In her dramas, characters struggle with lost opportunities, vengeful motives, hidden agendas, and complex family relationships. This was the second book written by Green after her famous Leavenworth Case, and was originally published in 1880 by New York firm, A.L. Burt. A Strange Disappearance is truly a fabulous piece of writing, well-constructed, dramatic and involving.
Amigo Reader; January 2011
ISBN: 9781162650357
Title: Strange Disappearance
Author: Anna Katharine Green
Imprint: Amigo Reader
Language: English
Get copy of this book [new/used]
*Click add to cart and checkout, free of charge.
Monthly Special!
You can claim a 20% discount on these categories:
Law - Literary Collections - Science - Technology - Travel.
Please visit here for further details.