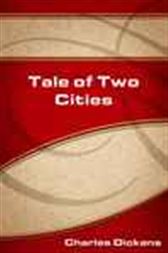 Amigo Reader 2011
[PDF] Free Ebook Tale of Two Cities – Charles Dickens
Ebook
A Tale of Two Cities was written by Charles Dickens and first published in 1859. As per its title, the novel is set in the two cities of London and Paris before and during the French Revolution.
It details the plight of the French peasantry under the demoralization of the French aristocracy in the years leading up to the revolution, the corresponding brutality demonstrated by the revolutionaries toward the former aristocrats in the early years of the revolution, and a number of unflattering social parallels with life in London during the same time period.
The novel tracks the lives of several lead characters during this period, including Charles Darnay, a former French aristocrat who falls victim to the wrath of the revolution despite his virtuous nature, and Sydney Carton, a British barrister who attempts to redeem his ill-spent life out of love for Darnay's wife, Lucie Manette.
A Tale of Two Cities is truly a classic, being one of the most famous works of fiction ever printed. This publication of A Tale of Two Cities is part of the Qualitas Classics Fireside Series, where pure, ageless classics are presented in clean, easy to read reprints.
Amigo Reader; January 2011
ISBN: 9781897093597
Title: Tale of Two Cities
Author: Charles Dickens
Imprint: Amigo Reader
Language: English
Get copy of this book [new/used]
*Click add to cart and checkout, free of charge.
Monthly Special!
You can claim a 20% discount on these categories:
Art - Computers - Nature - Photography - Self-Help.
Please visit here for further details.